Modern Lighting and Enhancements
Let the "Ohhh's and Ahhh's" begin! Uplighting is a great way to enhance the ambiance of your reception space and to surround your guests with any color or combination of colors from your wedding color palette. Whether you are hosting your reception in a conference room, club house or the most elegant ballroom in town, you now have the ability to take your decorating to the next level. Our uplighting is available in three different ways. We welcome the opportunity to explain the benefits and differences of each package based on your needs in this video.
Nothing personalizes your wedding more then a Designer Monogram. Add to the decoration of your reception using your names or initials or wedding date. Want to take it up a notch? We can add effect loops to bring your monogram to life!
Create a beautiful focal point in your reception space by pinspotting your cake or centerpieces!
Look and feel like you're on "Cloud 9" with our Dancing on the Cloud effect! Guaranteed to make your special dance even more memorable.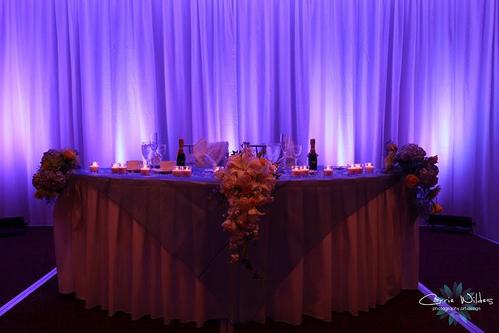 Add a beautiful backdrop to your head table or sweetheart table, or drape your entire room. Add lighting to tie everything together and create a magic space your guests won't soon forget!
Seen at French bistros and cafes, and sometimes referred to as market string lights, these globe string lights create a romantic atmosphere perfect for any venue or occasion.
Lighting and Enhancements
***All lighting and enhancements are subject to NYS Sales Tax***
Designer Monogram: $300
Intelligent Moving-Head Dance Floor Lighting: $650

Features 4 of our newest synchronized moving head intelligent lights on stand-alone "towers"
Lights are fully programmed for your affair with a grand entrance and club lighting effects all controlled by a trained lighting technician
Pinspotting: $50 per table
Starry Night Effect: $300

Project an elegant and dreamy starry night sky on your reception venue's ceiling
String Lighting: $1 per foot plus a $150 installation fee
Under Table Lighting: $50 per table

Add of "cool" factor to your room with glowing dinner and cocktail tables
Uplighting: $900 for the entire room/event space
Black Light Party (white gloves only): $200 and includes

Black light system
60 white gloves
Black Light Party (full package): $300 and includes

Black light system
60 white gloves
120 glow beads
12 white hats
48 maracas
Chuppah (white sheer fabric): $750
Dancing on the Clouds: $395
Dance Floor Rental

3' x 3' section (white): $20 per section
1' x 1' Sub-Floor (required on grass): $8.50 per section
Installation Fee: $200
Giveaways (Assorted Prize Package): $200 and includes

2 sets of YMCA hats
50 neon necklaces
24 "gangster" hats
12 tambourines
12 inflatable instruments
36 leis
12 pairs of maracas
12 party sunglasses
Giveaways (Neon Night Package): $100 and includes

100 neon necklaces
50 glow bracelets
48 light up disco sticks
Giveaways (Summer Party Package): $100 and includes

60 Hawaiian leis
24 maracas
12 sombreros
24 colorful sunglasses
HD Screen (Package #1): $750 and includes

One (1) HD flat screen TV on a truss tower
Custom monogram for your event when TV is on standby
Enhance your party atmosphere with music videos/graphics displayed on the TV
Photo Montage Package
HD Screen (Package #2): $950 and includes

Everything from Package #1
One (1) additional HD flat screen TV (2 total)
Photo Montage: $550

The photo montage includes up to 100 of your favorite photos to keep the presentation about 10 minutes
All of the photos are set to beautiful music (of your choice) that helps us tell the story
Package includes production, 10-foot projection screen (with DVD player and projector) set up at reception for viewing, and your copy on DVD
You may be able to save some money! Check out our
Featured Specials
to find out more!